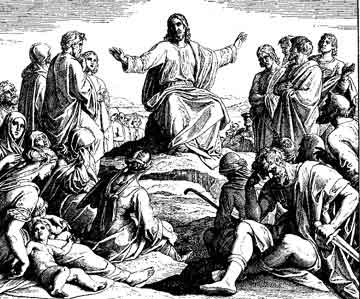 Sermons and Lessons
of the Faithful
These articles of the Church deal with issues of the Church, faith, hope, and charity or the lack of it in our modern society.
Systems of society change men.
The sophistry of words has deceived man and led him away from God, age upon age.
Sacrifice was meant to bring us closer to the nature of and character of God, closer to Him again.
Artifice in Languageland
Where has the sophistry of the adversaries of God taken our ideas of sacrifice, service, worship and prayer?
http://www.hisholychurch.info/sermon/sacrifice.php
The Corban of the Pharisees
It made the word of God to none effect.
Is our Corban making the word of God to none effect today?
http://www.hisholychurch.info/sermon/corban.php
Worship
What does it mean to worship in spirit and in truth?
http://www.hisholychurch.info/sermon/worship.php
The Liberty to tax
Do we have a right to tax ourselves or does someone else have that right?
http://www.hisholychurch.info/news/articles/libertytax.php
Choice
Are we maintaining our God given right to choose?
http://www.hisholychurch.info/news/articles/choice.php
Call no man Father
What was Christ trying to tell us about fathers on the earth?
http://www.hisholychurch.info/sermon/fatherabba.php
Clergy
Who are your ministers, administers, and public servants?
http://www.hisholychurch.info/sermon/clergy.pdf
Communion pdf
http://www.hisholychurch.info/sermon/communion.pdf

Eucharist
http://www.hisholychurch.info/sermon/Eucharist.pdf
School to fool
Are schools and educational institutions used as a social tool?
http://www.hisholychurch.info/sermon/school.php
Central Technology
Cracking the foundation
http://www.hisholychurch.info/sermon/technologi.php
A Detailed Study of the Mark of the Beast
What is this Mark of the Beast and what is the Mark of God?
http://www.hisholychurch.info/sermon/mark2.php
Letters on the Mark of the Beast
http://www.hisholychurch.info/news/letters/markletters.php
Rome vs US
Does history repeat itself because man does not repent?
http://www.hisholychurch.info/news/articles/romeus.php
There are gods many
Who are these gods many and what is a god?
http://www.hisholychurch.info/sermon/godsmany.php
ROMANS 13 verse 1 the higher liberty
Does God want us to be subject or to be free?
http://www.hisholychurch.info/sermon/romans13.php
Romans 13 and I Peter 2,13-14
Is the Bible consistent about setting men free or does it contradict itself?
http://www.hisholychurch.info/sermon/romanspeter.php
And Jesus said, "Do what I tell you!"
What doezs it mean toi love Jesus if you are not doing what he said?
http://www.hisholychurch.info/sermon/jesussays.php
Isaiah 24 and More
http://www.hisholychurch.info/sermon/isaiah24.php
Sabbath of Faith
Is the Sabbath a special day or a special way?
http://www.hisholychurch.info/sermon/sabbath.php
THE BIBLE
Is that book you call the Bible inspired by God?
If you read it would you be inspired too?
http://www.hisholychurch.info/sermon/bible.php
Word of God verses the Bible
Are we making the word of God to none effect by our traditions?
http://www.hisholychurch.info/sermon/bibleletter.php
What is in a Name
The the name of God the letters the compose the symbol we write or the sound we say?
Or is the name of God the character of God?
http://www.hisholychurch.info/sermon/name.php